Wider Horizon
Listen, analyse, demonstrate, examine and implement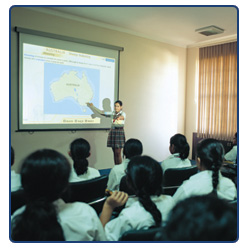 In today's rapidly changing and increasingly challenging times, the pattern of education in the higher sections has undergone a paradigm shift at Scottish High that goes beyond the stipulated syllabus and provides a stress free education. The school aims to develop inquisitive, critical thinkers and self directed learners by laying a proper foundation and honing the students' power of reasoning and analytical skills, which are very essential to outshine the stiff competition that they would face in the future.
Students are given scope to hone their presentation skills through visual based demonstrations and graphic oriented teaching. Periodical examinations are conducted and students are divided into groups depending upon their comprehensive skills. Students who are lagging behind are formed into small groups and a teacher is assigned to give them special attention. Scientifically devised assessment systems followed here helps to spot the slow learners and take corrective measures at the earliest. While slow learners benefit from the extra study hours, the exceptionally talented are given scope to perform better. The result is that every student performs to his or her best potential.
Understanding the importance of social responsibilities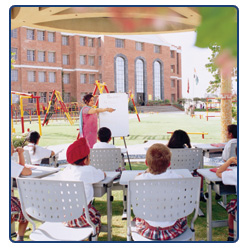 Scottish High firmly believes that students should be subjected to the elements of nature, because they should not only experience the vagaries of weather changes but also learn to enjoy every season. Therefore, students are once in a while taught in an open air classroom that keeps them in natural environs. This also helps them to learn the importance of maintaining ecological balance on this planet.
As a part of social awareness programmes, the students are taken to nearby villages and suburbs where they do social service like participating in adult education programmes, helping the residents in keeping their surroundings clean, organizing voluntary activities like planting trees and so on. The school also has plans to adopt few nearby villages. The school believes that every individual of the country should be disciplined and be prepared for serving the nation in times of need. It therefore, encourages its students to join either NCC or Scouts and Guides. To teach the importance of moral values and national integrity, festivals of all religions are celebrated with fervour and gaiety on the campus.