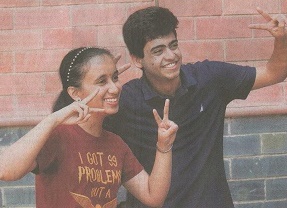 Highlanders Scorch National & NCR Toppers' List in ISC 2017
Scottish High Flag flutters high with the Proud Highlanders Keerthana Srikanth ranked ALL INDIA SECOND POSITION HOLDER and DELHI NCR TOPPER with an astounding 397/400 i.e. 99.25% and Shivang Singh being ranked SECOND TOPPER IN DELHI NCR with395/400 i.e. 98.75%. The two Highlanders scored a Perfect 100% in Physics, Economics, ICT & Mathematics, respectively.
The overall Scottish High topper in Grade X ICSE is Mehak Mishra with 96.8%. Highlanders bring pride to their Alma-mater with a 100% first division in ICSE X Grade as also in ISC XII Grade. There are 300 subject wise distinctions in Grade X ICSE and 130 subject-wise scores above 90% in X ICSE.
The overall Class XII ISC topper is Keerthana Srikanth from Science stream with 99.25% . In Commerce stream Vrinda Batra topped with 98%. In Humanities stream Shaurya Chaudhary topped with 96.5%. There are 157subject wise distinctions and 92 subject-wise scores above 90 % in XII ISC.
Posted By admin in Happenings, Media Coverages, News, on June 1, 2017