Faculty
Mentors with mission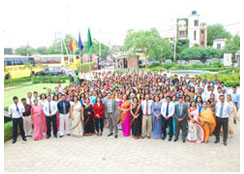 Teachers are the makers of the society. They are the motivators, guides and the lodestar that helps the students steer their careers to success. Scottish High has invested enormous time and energy in selecting the teaching faculty who are not only well qualified and experienced but are also committed in delivering the best to the student community.
Today, creme-de-la-creme of teaching faculty, at Scottish High is handpicked from the best national and international institutions and are considered to be the best in the region, country and abroad.
At Scottish High, the teachers are respected for their ability to think independently and for their proactive and positive contribution in the development of every child under their care. They regularly interact with parents, as they are considered very important an integral part of the institution in the developmental activity of the students. Senior members of the faculty regularly attend seminars and visit various schools in the world to bring the best teaching and learning practices to the institution. The staff members and teachers are the melodious instruments which makes Scottish High a beautiful and harmonious composition in the world of learning.
Teaching is also a part of the learning process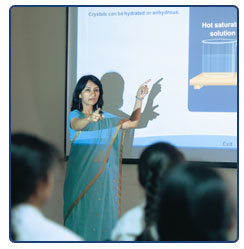 Scottish High is privileged to have a dynamic team of dedicated, highly qualified, well-experienced and committed teachers as its faculty. It is like a strand of valuable gems that makes a precious ornament. Each member contributes positively and productively to the growth and development of the students and there by the development of the institution. They are not just the teachers, but they play a multiple role as the mentors, philosophers and guides leading the children to the path of success. They do not restrict themselves to classroom teaching alone, they help in clearing the doubts, fears and anxiety of the students and motivate them to perform well both in academics and co-curricular activities.
The faculty with decades of extensive teaching experience plays a crucial role in shaping a child's personality, inducting positive thoughts, simulating analytical thinking and inculcating decision making ability. In service training, refresher programmes, microteaching sessions cum workshops by internationally renowned academicians are organized to update the teachers with the latest trends in the field of education internationally.