Chairman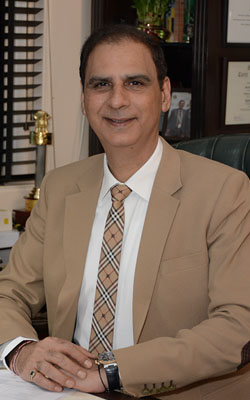 Dr. Commander Kartikay Saini
Setting the Sail for Success
He is a man who believes in dreaming big and then leaving no stone unturned to accomplish it. His dream to provide global quality education to children realised with Scottish High International. But there's no stopping him as he plans an equally world class foray into higher education.
A man who started his career as a Naval Commander in the turbulent seas guarding the nation is now at the helm, commanding over a sea of children with passion and energy to match it. An engineer and management postgraduate by qualification, a natural leader, a keen equestrian, yachtsman and a prolific writer all packed into one. A multi-faceted personality, Mr. Saini, plays multiple roles. He is not only the Chairman of Scottish High International School, but also the Chief Executive Officer of Eurotherm Hema Radiators India Ltd., Director of Hema Engineering Industries Ltd.,, a 6,000 million turnover company and the Head of Autism Research Centre of India and the Chairman of Special Olympics Bharat.
In addition, Mr.Kartikay Saini assumed the mantle of Chairman, Special Olympics Bharat on 13th August 2015. He is now on the helm of affairs of Special Olympics comprising of 1 million athletes. Of note, Mr Saini's association with Special Olympics goes back to 2003 when he worked for SOB as a volunteer. He was inducted into the Advisory Board of SOB a year later and then served as a Committee Member of SO (Delhi). He was then made the Chairman of Fund Raising Committee in SOB Delhi Chapter. A few years later he was appointed as the Vice President SOB Haryana. In addition he was then appointed on the Board of Trustees of SOB, then the Vice President of the Board and finally after 12 years he has risen to the Chairman of the Board, along with being the Vice Chairman-Special Olympics, Asia Pacific Leadership Council, Chairman-Asia Pacific Unified Sports Advisory Committee and the Head of the Autism Research Centre of India.
Distinguished Awards and Honours
Mr. Saini is a recipient of many medals and awards like : CNS commendation for his dedication and hard work in the Indian Navy and recommended for 'Vishisht Sewa Medal' (2001) 'Gem Of India' award (2004) 'The Best Citizen' award (2010) 'Rashtriya Gaurav' award (2010) 'Indira Gandhi Sadbhavna Award' (2010) 'Shiksha Bharti Award' (2011) from Indian Achievers forum 'Best Award for innovation in Special Education' for the project 'Integration of children with Autism in regular mainstream school' at World Education Summit, 'Ed Leadership Award 2011', 'Asia Pacific Excellence Award' 'Rajiv Gandhi Excellence Award' 'ISFI Award' for his services to the Nation.
He is also the panel member of the Sahara Group 'IAFEE AWARDS' to honour and felicitate students who have achieved high goals through hard work and dedication.
And not to miss 'The Derozio Award 2015' &Indian Achievers Award for Education Excellence.
A storehouse of skills…
A keen writer and poet he has contributed to a number of technical and other journals and magazines including the US Proceedings, USA. His oration skills and interest in dramatics & music always made him the preferred leader.
Kartikay Saini has been a keen sports person all his life. Brought up in National Defence Academy and Armed Forces, fitness and games have been a part and parcel of his life. He is an Equestrian and a Yachtsman. He has represented the National Level of Enterprise class yachting and was the crew of none other than world champion Kelly Rao. He has been a keen Golfer and played numerous tournaments including Pro-Am Tournaments of Hero India Open, The Avantha Masters and the annual tournaments of BMW, Mercedes, Audi, SAIL, Madhav Rao Scindia etc.
Keynoter/ Speaker
An avid speaker, Mr Saini has ensured communicating and channelising of his vision and ideas to varied audiences in India and abroad through workshops, lectures and presentations. He has been regularly invited by renowned organizations like the International Baccalaureate Organization (Geneva), ISTE (Philadelphia), Cambridge Assessment, IAEA (Manila), and World Education Summits, Edulearn and ICERI, Spain, MDI etc. to speak, train and inspire leaders of varied fields.
Some of the papers presented by Mr. Saini at National and International forums are as follows:
Paper on 'Controlling Self-control – Myths and Realities of implementing IB curriculum in schools' at IB Regional Conference, Singapore.
Paper on 'Controlling Your Self-control – Myths and Realities of true assessment in the global context' IATED, Manila and Barcelona.
Presentation on 'Heart- The Server' at ISTE, Philadelphia.
Presentation-'Marching towards future classrooms'- e-Asia- Dhaka, e-India-Gandhi-Nagar, World Education Summit- New Delhi
'Myths and Realities of true education and learning- Getting in Control'- at Evolve, the Espee Global School.
Integrated True Learning INTED SPAIN
Special needs learning at the American School Bangkok.
"I strongly believe that the children are the destiny of the nation. Physically strong and mentally sound individuals with positive outlook and a strong sense of social justice, tolerance and harmony are the torch bearers of this planet. For the nation to prosper, its children should develop into well-balanced individuals who can shoulder the responsibility of the nation's development. At Scottish High, we always strive to provide the children the required opportunity to shape into proud citizens of this glorious mother land."