Chairman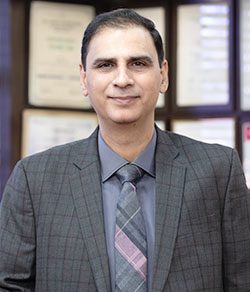 Dr. Commander Kartikay Saini
DR CDR KARTIKAY SAINI- LEADERSHIP EXEMPLIFIED
Some people hope for 'Change' and there are some who make it happen! Dr Cdr Kartikay Saini is the catalyst who relentlessly challenges 'clichés' to bring a revolution in society..
Here's a brief sketch of the leader who is on a headlong pursuit to make education, not only an inclusive proposal but also endeavours to stake a claim in the holistic future of learning.
An ex-commander of the Indian Navy Dr Cdr Kartikay Saini has spent more than three decades of his distinguished career serving the Country in the Defence and civil world. Currently, he holds the following distinguished positions that underline his leadership and entrepreneurial skills, in addition to numerous other positions on the Boards of Schools and Management institutions.
Here's a quick look…
Dr Cdr Kartikay Saini, is the Founder Chairman of Scottish High International School, Gurgaon. Former Chairman of Special Olympics India, he is also the former Chairman of Unified Sports Advisory Board of Asia Pacific and Board member of Special Olympics International, Washington, mentoring 177 countries of the world including continents of America, Africa, Asia, and Europe.
Adding to his eminence, Dr Saini heads the Autism Research Centre of India and is also the Board Member-The Golf Foundation of India and an Advisory Board Member- INTED Spain.
AWARDS & ACCOLADES-
Dr Kartikay Saini's contributions particularly in the field of Education and Inclusion has changed the lives of millions across the globe. He has received many awards and accolades for his distinct social, educational and pro bono campaigns, pan India. A brief overview….
Felicitated by the House of Commons in 2019 by the Members of the British Parliament as the 'Educationist of the Year', Dr Cdr Kartikay Saini has successfully made his vision for Education 'a Global statement'.
With more than 200 national and international awards outlining his influential presence in the academic arena, the stars on his mantle describe the decades of his dedication and commitment in the field of inclusiveness and disability. The awards include 'Education Evangelista' by the Forbes Magazine, 'a change maker' by the Hindustan Times 'a game changer' by the Economic Times and the Dorezio award by ICSE Board.
He has also been felicitated by numerous nations and Heads of States in various youth inclusive conferences in the USA, Spain, Manila, Bangladesh, Bhutan, Singapore, Washington, Chicago, Philadelphia, Azerbaijan, UAE and the Dominican Republic.
His contributions to Education and Special needs have very few parallels. Honoured with 'SAICON-Sports Authority of India', 'Inspirational Leader's Award' 'Visionary of the Year Award', 'Indian Achiever's Award", "Education Stalwart Leader", "Trendsetter of the Year 2018" and many more, Dr Saini continues to make a mark in the hall of excellence.
NOTEWORTHY CONTRIBUTIONS-
Dr Cdr Kartikay Saini has received noteworthy recognition for his social work and education of people with disabilities and much-admired by many Heads of Global organizations and Country heads of 'Special Olympics International' in Asia and Europe as well as America.
Prominent personalities like Dr Timothy Shriver (nephew of US President John F Kennedy), Consulate General of India Ms Neeta Bhushan at Chicago USA, the Bhutan Government Special Olympics, and CEO- Special Olympics International, Ms Mary Davis have lauded his meritorious contributions in the same.
WEALTH OF EXPERIENCE-
Coupled with creditable accomplishments at the National and International levels, Dr Cdr Saini has a wealth of experience which he shares through various workshops and seminars as a key speaker.
He has led various workshops on leadership and governance in different parts of the world-Spain, Switzerland, China, U.S.A, Macau, Philippines, Malaysia, to mention a few.
His ideas, concepts and views on various issues catch on like wildfire, which is why he has been invited to lead conferences and workshops across the world and honoured for his excellent humanitarian work in the field of disability. His workshops include the Academies of Asia Pacific, Europe Eurasia Youth summits, America's Youth Congress, etc. Leading youth conferences and inspiring thousands, Dr Saini has been one of the 'most wanted' speakers in India and across the globe.
A LEADER WITH MANY STRENGTHS-
Having the undertones of an accomplished leader, every sort marks out Dr Cdr Kartikay Saini's multilateral appeal! Adding to his persona and distinctions are his manifold interests and pursuits that are simply an act to his credit.
His exceptional oratory skills and proficiency in music and drama distinguish his versatility and across-the-board character. Not to forget his passion for Golf that he says is "a meditation of the body and mind".
His skills in writing and poetry reflect his creative side, setting him apart from the regular rest. A keen writer who has contributed to several journals and magazines including the US proceedings, USA, Dr Cdr Kartikay Saini truly embodies the qualities of a well-rounded leader who has all the makings of a true statesman.