NRI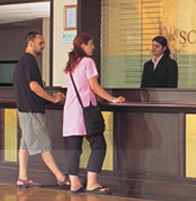 The unique thing about Scottish High is that it has a cosmopolitan culture. Special efforts are made to sensitize the children as well as the teachers to deal with cases undergoing such transitions wherein a child has to cope with the climatic change and huge cultural barriers. However at Scottish High, adjustments are easier because there is a vast expat community here who are Scottish High parents. The school has state of the art infrastructure and facilities in line with best international standards.
Out of the 2000 plus children at Scottish High, 30% of them are NRIs/Expats.
There are children of foreign nationalities as well as the NRIs coming from Singapore , Philippines , UK , US, Australia , Canada , Switzerland , Korea to name a few.
International Curriculum – PYP(Primary Year's Programme) is followed from Pre Primary till grade V. ICSE & IGCSE Curriculum is followed thereafter till Class X Where a student has a choice before IGCSE or ICSE.
For Grade XI& XII again the student has a choice between IB Diploma / ISC
Personal attention is provided to the children coming from other countries in order to enable them settle down faster. The class strength for Pre-Nursery and Nursery is 25 while from class KG onwards the maximum class strength is 25. This makes it convenient for the teachers to work closely with the children. The overall student teacher ratio of the school is less than 1:12.
There are Fast Track Programmes arranged for the NRIs and special classes are conducted for Hindi and other subjects. ESL(English as Secondary Language) is also offered.
The foreign languages offered in the school are French, German and Spanish.
Bank transfers/ Electronic Transfer of funds can be carried out.
One of the first educational institution in India to be accredited with ISO 21001:2018 Certification, a standard for Learning Services Management.