About Us
INTRODUCTION
Scottish High International School, one of the most renowned schools in the New Delhi NCR region is situated in the millennium city of Gurgaon on five acres of lush green land in the heart of the city.
Established in 2005, With ISO 21001:2018 by the National Accreditation Board for Education and Training (NABET), Government of India, a standard for Learning Services Management, Scottish High sustains and maintains its proud heritage of quality teaching & learning, occupational health & safety and safe environmental practices through the combined effort of the dedicated students, staff and parents. One of the best schools in gurgaon.
The School's Mission: "The school will be a centre for excellence in education. In keeping with the rich heritage of India, it will stress on the simultaneous development of Spirit, Mind and Body and endeavour to create compassionate, responsible and innovative students committed to change and progress in the development of India and the global environment".
The School's Motto: "INTERROGO, PERCIPIO, ADICIO" which, when translated from Latin to English, reads "Question, Understand, Apply". The motto is befitting the Curriculum and Mission of the School, which endeavours to build strong foundations of the Mind, Body and Spirit by way of seeking, analysing and practising knowledge in all facets of life for every student enrolled.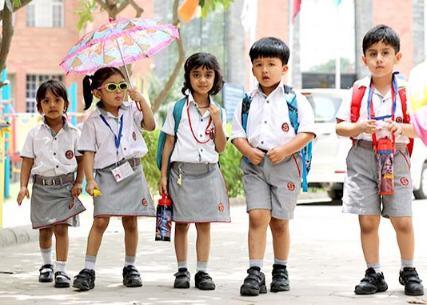 FACILITIES
The School has state of the art facilities for facilitating the learning experience for this technology-driven age, four buildings of the schoolhouse independent, fully equipped science, social science, math and language laboratories along with computer resource centres with an all-day internet access for teachers and students. There are two resource rooms in the Primary Wing. It also has an auditorium, five audio-visual rooms and a multi-purpose hall for hosting expert talks and inter-intra school activities for its students and staff alike for a holistic development. The teaching is supported by updated technology and use of smart boards, LCD projectors, and computers with latest software for teaching purpose.
LIBRARY
The School is thoroughly equipped for the enhancement of all skills of the students, therefore, we have four libraries each for primary, middle, senior grade students with more than a lakh of books. Along with that, we also have a resource room for our IBDP teachers and students with books, e-resources catering to IB subject needs.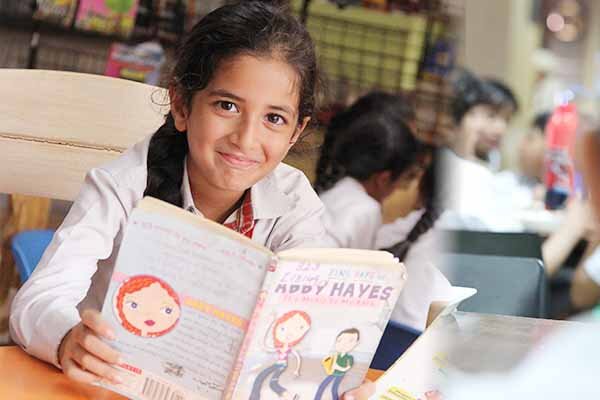 ACADEMIC CURRICULUM
IB for Pre-Nursery to Class V, Cambridge Curriculum for classes VI to X, the National Curriculum (ICSE) for Class VI to X, ISC for Class XI & XII and IB Diploma Program for Class XI & XII lay a wholesome ground for students to branch out in holistic ways.
Pre-nursery to V: Primary year programme (PYP): Scottish High offers IBPYP in the Pre-Primary and Primary section. The International Baccalaureate Primary Years Programme is an educational programme managed by the International Baccalaureate (IB). The Primary Years Programme (PYP) focuses on the development of 3-12 years old students, helping them to become active, caring, lifelong learners. The most significant and distinctive feature of PYP are the six transdisciplinary themes. These themes provide opportunities to incorporate local and global issues into the curriculum and effectively allow students.
Parents are active stakeholders in the teaching and learning process. Assessment is an integral part of the curriculum and its function is to demonstrate and enhance teaching and learning. We assess the development and application of skills through ongoing assessments, Gallery Walk, Front Desk Programme, Student-Led Conference and PYP Exhibition. The PYP Exhibition is the culminating event of the PYP. It requires students to analyze and propose solutions to real-world issues, drawing on what they have learned through the PYP. For students, it is a process which prepares them for higher classes.
Grade VI to VIII: Cambridge Lower Secondary is offered along with ICSE curriculum. As we believe in all-inclusive development of students, apart from academics it is mandatory for the students to opt for a minimum of one activity each from the vast variety of indoor and outdoor activities. Indoor activities include art, craft, drama, music and dance (both Indian and Western) and yoga. Outdoor activities consist of tennis, football, basketball, swimming, horse riding, cricket and golf.
Grade IX AND X: Students, once again can opt for any one of the two curriculums offered by the school i.e. ICSE (national) and IGCSE (international).
The CISCE conducts an external examination at Year 10 for the national curriculum.
Equivalent to British GCSE, a two- year IGCSE programme is offered to grade IX and X. Cambridge International Examination (CIE) set in UK conducts the examination at the end of Grade X and the answer scripts are sent to UK for marking. The structure and content of the IGCSE syllabus is available at
IGCSE-HANDBOOK.pdf
Grades XI and XII: Both, National Curriculum- ISC and International Curriculum- IBDP are offered here.
At ISC, students can choose from any stream- Science, Commerce and Humanities. On the basis of the stream chosen students can opt for any four subjects in each stream- Mathematics, Physics, Chemistry, Biology, Economics, Computer Science, Accountancy, Commerce / Hindi, Spanish, French, History, Geography/Political Science, Psychology, Art and Physical education with English being a compulsory subject for all irrespective of the stream selected. SUPW (Socially useful and productive work) is also compulsory for all the students.
We are an authorized IB World School and impart International Baccalaureate Diploma Program (IBDP) for XI & XII. We have different set of trained teachers teaching ISC and IBDP. All of them have B Ed, Post Graduate degree in their subject with a few with Doctorate as well. Links for further details on Curriculum, Examination body, School policies on Academic honesty, Language and assessment
www.cisce.org
www.ibo.org
GRADING SYSTEM
For ISC students: School follows, promotion and grading criteria as laid down by the Indian School Certificate Examinations. In Grades 11-12 report card is issued twice a year. Minimum of 45% score entitles a student for promotion. Final Report is issued by the Council after the Board Examinations, in May. Predicted transcripts are given to the students, strictly on the basis of their performance in the internal assessments. Internal assessments for grade 11 Comprises of 1 Unit test, 1 Half-yearly examination and 1 Final examination. Internal assessments in grade 12 comprise of 1 Unit test, 1 Half-yearly examination and 2 Pre Boards. For CAIE students: Cambridge Lower Secondary (Grade VI-VIII): School conducts two Unit Cycles, one Half Yearly Examination and Final Examination for these classes. Marks Value: 10 marks for unit cycle, 40 marks for Half Yearly Examination, 50 marks for Final Examination.
Certification: The certificate is offered in three categories
Distinction: Grade A or better in four subjects + Grade C or better in two subjects
Merit: Grade B or better in four subjects + Grade D or better in two subjects
Pass: Grade F or better in all six subjects
IGCSE Grade IX: One unit cycle, One Half Yearly Examination and Final Examination for Grade IX IGCSE. The papers are set and marked as per their subject-specific components. IGCSE Grade X: One Unit Cycle, One Half Yearly Examination and Two Mock Examination followed by the Final Examination conducted by the Cambridge International Examination.
Dual Certification  As individual IGCSE subject examinations ( for candidates opting for individual subjects)  As the International Certificate of Education ( ICE) ( after successful completion of at least 7 IGCSE subjects) The award is offered in three categories  Distinction: Grade A or better in five subjects + Grade C or better in two subjects  Merit: Grade C or better in five subjects + Grade F or better in two subjects  Pass: Grade G or better in seven subjects For IBDP students: Grades are given on the basis of student's performance in Summative assessments. Report cards are issued by the school for the three semesters. Final report is issued by the IBDP at the end of the two-year programme.
RANKINGS
As per our school policy, we do not rank our students. This helps each pupil stay motivated as there is no unhealthy competition and therefore they remain focussed on their own result. In this race for competition, students tend to run after gaining marks rather than concentrating on learning. This practice helps in creating an environment of growth as the school endeavours to create a healthy atmosphere of learning.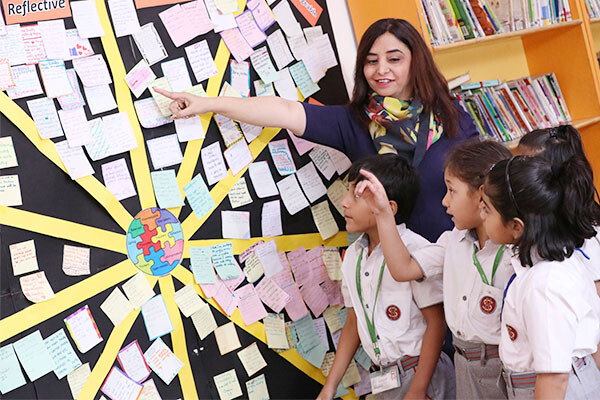 SPORTS, CO-CURRICULAR AND COMMUNITY SERVICE
We have partnered with the government and a few premier private institutes for all-round development of our students in the area of sports agility and leadership qualities. We are an authorized NCC wing for boys and girls and have partnered with The Global Education Leadership Foundation (t-Gelf) which trains young students to cultivate leadership qualities to become leaders of tomorrow. Our students are trained by 16 full-time international level coaches for horse riding, Archery, Gymnastics, Cricket, Soccer, Basket Ball, Tennis, Swimming, Yoga, Judo, Volley Ball, Skating, Taekwondo etc. Golf takes a full swing at Scottish High International School with its well-established 1200 square feet Golf Training Centre. Under the guidance and training of dedicated golf Professionals together with the indoor audiovisual room, driving range and an artificial putting/chipping area, simulator our students practice, develop and get adept in golf skills. Archery also been an important sports in our school with many students participating and winning at the National Level. Our teachers mentor students from classes 1 onwards on an on-going basis. A Clan Parent (teacher) is a subsidiary parent in school for the tutee under his/her charge and is responsible for the emotional, physical and overall well-being of the tutees. The main aim of dividing the students into clans is to propagate team spirit and give a competitive edge, along with the overall development of the individual. Students are encouraged to participate in various clubs and societies within school like MUN, Formula 1, Science, Robotics, Animation, Photography, legal literacy, Home science, Quilling and Dramatics. Our students participate in Robotronics Competition at the national and international level.
STUDENT COUNCIL
A council by the students, for the students and of the students is a board appointed to uphold the vision and mission of the school, who could represent the school body as and when required and hence assist and facilitate the overall administration of the school. They are selected through rigorous process of interview and academic merit
COUNSELING & INCLUSIVE EDUCATION
Behavioural and Career counselling- Professionally qualified and trained counsellors hold individual as well as a group session with students, teachers and parents on various academic, emotional concerns on a regular basis with yearly planner. Career Awareness Programs are organised on a regular basis with strong support system created for College Planning and Applications for students. Various events like Expert talks, University sessions and Career Fairs of International and National universities are regular in the school calendar which is attended by students and parents are invited. Career Counselling division has taken an initiative to guide and support every student of senior grades in career planning and profile building for course-college selection. Apart from counsellors we also have a team of Special Educators, Child Psychologist, Speech and Language Therapist, Audiologist and Occupational therapist to support students with special needs. The student to teacher ratio is 2:1. All students with special needs are mainstreamed. Integrated department has special Sensory Integration Therapy Room, Sensory Room, Speech & language Room, Occupational Therapy Room and 2 Remedial Rooms where SEN students get remedial session besides therapies. Autism Research Centre officially recognized as a Scientific Research Organisation (SIRO) by Govt. of India, Ministry of Science and Technology, Department of Scientific and Industrial Research. Besides Scottish High is a partner with Special Olympics, India.
SCHOOL AWARDS FOR STUDENTS
Every year students are awarded proficiency awards from 5th grade onwards for excellence in academics, sports, punctuality and Inter-clan activities. Every year student with an excellent track record in academics is given the prestigious Abha Memorial Award. Besides, awards are also given to special needs, underprivileged students of the school for their remarkable contribution.
AWARDS RECEIVED
Scottish High International School is the first school in the country to be certified for all three systems together ISO 9001 for Quality Systems, ISO 14001 for Environment and OHSAS 18001 for Health and Safety. It has been accredited with ISO 29990:10 – a standard for Learning Services Management defining quality of workplaces training and education. The first school in India to be associated with this standard to maintain high-quality education. The FIRST school in India to be certified with ISO 21001:2018 by the National Accreditation Board for Education and Training (NABET), Government of India.
Awards received by Scottish High International School
THE LEGACY OF LEADERSHIP
Education is one of the greatest enablers to nation-building and Scottish High International School, India is one of the top institutions in the country that has emerged as the leading contributor. With its revolutionary initiatives in the field of quality education, the school is measured as the most sought-after destination for students who aim for quality education and excellence in higher education, national and international. Blazing a trail with IB since 2008 (11 Years), Scottish High, the IB World School is going strong with its all-inclusive ideas and cosmopolitan legacy.
However, the initial years of this glorious foundation narrate a different story. A story replete with struggles and challenges. Once a barren land in the millennial city, Gurugram, India, is where Scottish High stands today. Home to one of the most successful fraternities of students who are making their mark all across the country and the world.
It is interesting to share how an idea grew into a thriving vision-the Scottish High International School. Our journey started with the pursuit of a 'Good School'. I realized this when my son Ranveer was diagnosed with Autism at the age of 2 and we as a family knocked every possible door to have our son admitted and accepted. There was an extreme shortage of, and a dire need for, quality institutions in education. Similarly, a good school that could embrace and give space to my son and his future was hard to find. This is where the idea of starting one of the finest international schools in this country dawned on us. A school fortified with an inclusive and integrated vision and set up. This is how the idea of Scottish High International School came into being. Today we are proud that the school stands out with its unique vision and is rated as No.2 International School in the country.
Moreover, I always wanted to start an institute that was unconventional. With ISO standards, national and international boards under the same roof, foreign curricula of Cambridge, IGCSE and International Baccalaureate, longer duration till 4.30 pm, inclusive education, unique sports like fencing, archery, golf and equestrian etc. were a challenge in itself as a concept. Putting this concept into an idea, deriving a vision and a mission statement and executing it into an operational task was seemingly impossible. Mindsets of people, including teachers, students and parents, challenges of multi curricula teaching, sustaining long hours of work for all the stakeholders and corporate quality assessment procedures for conventional teachers-all this was an uphill task. Similarly, building an integrated set up for students with intellectual disability was one of the many challenges too. However, with a strong will, determination and leadership, Scottish High has been able to achieve this 'tall order'. Today it is one of the very few schools in India with EOMS ISO 21001:2018 Certification. A standard accredited for quality teaching & learning, occupational health & safety and safe environmental practices.
Celebrating 15 years of excellence in holistic education, the School's comprehensive vision, 'Creating Leaders of tomorrow', is well represented by the cluster of Alumni students who are successfully trotting the globe with their academic distinction in the best universities and colleges around the world. Georgia Tech, Atlanta (USA), University of Southern California (USA), London School of Economics (UK), London Business School (UK) to name a few.
Not only this, the school enjoys a creditable track record for producing champions that have made India proud both at the national and the International level. A few prominent names out of many that have made it to global hall of fame are- Ranveer Singh Saini who created history by being the First Indian to win a Gold medal in Golf at Special Olympics, World Games, Los Angeles, USA, 2015, followed by a Silver medal (Golf) in Special Olympics, World Games, Abu Dhabi-2019. Ranveer is also the winner of 5 Gold medals in Asia Pacific Golf Masters, Macau, Limca Record holder for four consecutive years (2014-17) and recipient of the Highest Sports Honour of State (Haryana) India – Bhim Award, and many more. Similarly, Mahika Rathore, Kunal Ghanti, Rajat Rathi and several other names are making headway in the national and international sports arena.