Senior School Head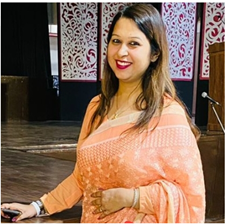 Mrs. Isha Verma Behl
'The duties of a teacher are neither few nor small, but they elevate the mind and give energy to character'                                                                                               Dorothea Dex
Ms. Isha Verma, the Senior School Head, is a multi-talented personality and she epitomizes the above quote. She is an alumnus of Delhi University and has gained Post Graduation in the foreign language, French. She has pursued post graduate diploma in translation and linguistics from University of Rennes II, France. She has had the opportunity of teaching in India and abroad.
She has a strong background in education and leadership, having served in various administrative and teaching positions throughout her career. She is deeply committed to promoting diversity, equity, and inclusion in all aspects of the institution, and to fostering a supportive and collaborative environment where students can reach their full potential. She has varied experience in gamut of fields being Deputy Head in French Department of Cambridge International School in Dubai. Her learning curve has been ever expanding due to her innate quality of wanting to forever increase her knowledge base which has led her to walk on various paths of gaining experience.
She has been a key note speaker in 12th World Education Summit. She was recognized and awarded for Innovative Teaching and Strategies by S. Chand and Group. Together, she believes that great things can be achieved. She has foresight and ability to take the institution to new heights. Let this institution be made an ideal place for learning and growth.