Deputy Chairperson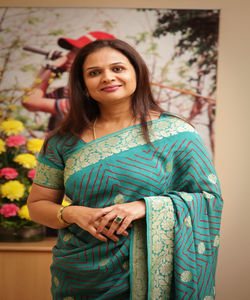 Mrs. Bakhtawar Kartikay Saini
Mrs. Bakhtawar Saini has over 27 years of experience in the corporate, education and special needs fields..
She is the Deputy Chairperson and on the Management Committee of Scottish High International School. She also directs the Integrated Department of Scottish High which is responsible for integrating special needs with the mainstream. She also designs curriculum for Special education, inclusive education and their periodic evaluations. She has conducted various workshops on inclusive education, inclusive assessment and on numerous topics to inspire educators, youth leaders, parents and students across the world.
Also she is the Senior Advisor-Special Olympics Bharat and has conducted numerous Special Olympics events involving coaches, parents, athletes and other stakeholders including marathons, project unify, youth leadership summits, leadership workshops, EKS day, various competitions and family forums. Mrs. Saini has been a panelist on various National and International Forums including the Mission Inclusion of Government of India and numerous Non Profit Organisations.
She also works closely with National Trust of India & Rehabilitation Council of India (RCI), training and designing curriculum for special needs athletes and coaches at national levels, thus broadening her contributions to the cause.
Her source of strength!!! She is the proud mother of Master Ranveer Singh Saini – the young golfing phenomenon who won Gold for India at the Special Olympics, World Games 2015 held in Los Angeles, USA. Ranveer is also the recipient of the highest Sports honour of the State- the Bhim Award.