Primary School Director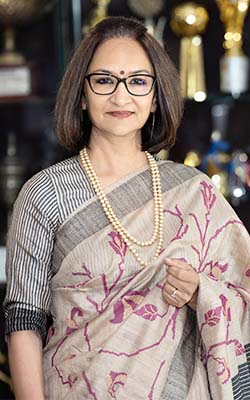 Mrs. Seema Bhati
They share the vision. To realize it is their mission.
An ideal blend of brilliance, leadership and intellectual accomplishments, Seema Bhati is the alumna of Sophia School, Ajmer. She is a B.Com, B.Ed with a rich experience of over 30 years as an educator. She has first hand experience of teaching from grade nursery to grade five. A passionate educationist, she has been actively involved in primary curriculum development and training the primary teachers for the Primary Years Programme. She firmly believes that this program enables the students to develop into life long learners and has also facilitated orientation workshops to enable parents to understand the underlying philosophy of the Primary Years Programme.
She works for IB as a School Visiting Team Leader and Consultant for schools new to IBPYP and has attended various seminars and received extensive training at various IB conducted workshops in India and abroad. Ms Bhati has vast experience of training the trainers as she believes in empowering the educators with right type of teaching tools required to enhance their skills and expertise in teaching. Apart from conducting extensive workshops for trainers, she also takes regular sessions for parent community to enable them to face the challenges of parenting in today's times.
As a pedagogical leader she interacts with educators across the globe to understand and introduce latest concepts and ideologies on subjects and issues of curriculum development and planning.